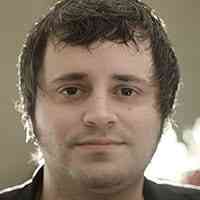 It began in 2011. I began moonlighting as a freelancer while still working full-time as a Graphic Designer. My customers were businesses who needed someone who could wear multiple hats, looking good in them all (and were willing to work with my evening & weekend availability).
Things got real in early 2013. I quit my job to become a full-time independent designer. The transition has been more successful than I could have hoped!
These days I work directly with design & creative agencies as a remote Production & Retouching vendor. I work with Brands, Manufacturers and Retailers. I am always interested in discussing new projects and meeting new clients.
Photo Retouching and Photocomposition
One of my favorite tasks is photo manipulation, whether for special effect, artistic styling or just to make an awkward detail fit more naturally into the composition. Some of the portfolio pages on this site show this work. I'd love to share my book with you in person which includes visuals I cannot share via my website, contact me to setup a one-on-one meeting. Some specific photo editing tasks I often do for clients:
RAW Processing: I do a bit of my own SLR photography and always shoot RAW format, I love making the big stylistic edits in the RAW conversion stage (where I find the tools more artistically tuned) before beginning detailed Photoshop retouching.
Stylistic Editing: Matching photographs to a common theme, such as matching backgrounds across a product shoot to match when displayed in a grid on a website or matching a the feel of creative reference from a design deck.
Photo Retouching: Cleaning up blemishes, removing color casts, balancing different light sources, Frequency Separation editing, etc.
Photocomposition: Creative reimagining of photography, special effects. Perhaps using multiple captures, sometimes from different shoots, to create a natural-appearing result. I love a challenge!
Animated GIFs: Creating and editing source images to produce animated GIF images.
Prep for Output: Prepare images for final output in various mediums.
Production Artwork, Production Design
I have worked as a Production Artist and Production Designer during multiple stages of my career, finely honing my skill adapting a brand or design from one purpose to another—never losing the essence of what defines the original. Consistently applying color palettes, hierarchies & brand strategies so that the consumer cannot distinguish the original design from the derivative is the name of the game. I take guidance from existing artwork needing little supervision, identifying essential design characteristics & patterns and applying this branding to new items. On the flip side, I enjoy working directly with an Art Director to achieve their creative vision artistically executed to my highest technical standards.
Graphic Design
I have developed an instinct for design over many years in the creative business. My adaptable style can be applied to a variety of design techniques. My efforts never lose sight of the main objective: Communicating with your audience—clearly, memorably and motivationally.
Web Design
I approach web design as an advocate for the end-user. Consistency and discoverability in the UI, leveraging design patterns the user intuitively understands is what I bring to the task. A natural creative problem-solver, I love figuring out how to tackle any technical situation. Typically I base my Web Design & Development efforts on the WordPress CMS platform. I don't typically develop full-featured sites myself, rather leverage my network of developer partners to complete this task. However, I do possess the production chops to direct a development team and validate development strategies. That said, I am quite comfortable with HTML & CSS and can tackle relatively simple HTML & CSS tasks that do not require more sophisticated programming or scripting techniques.