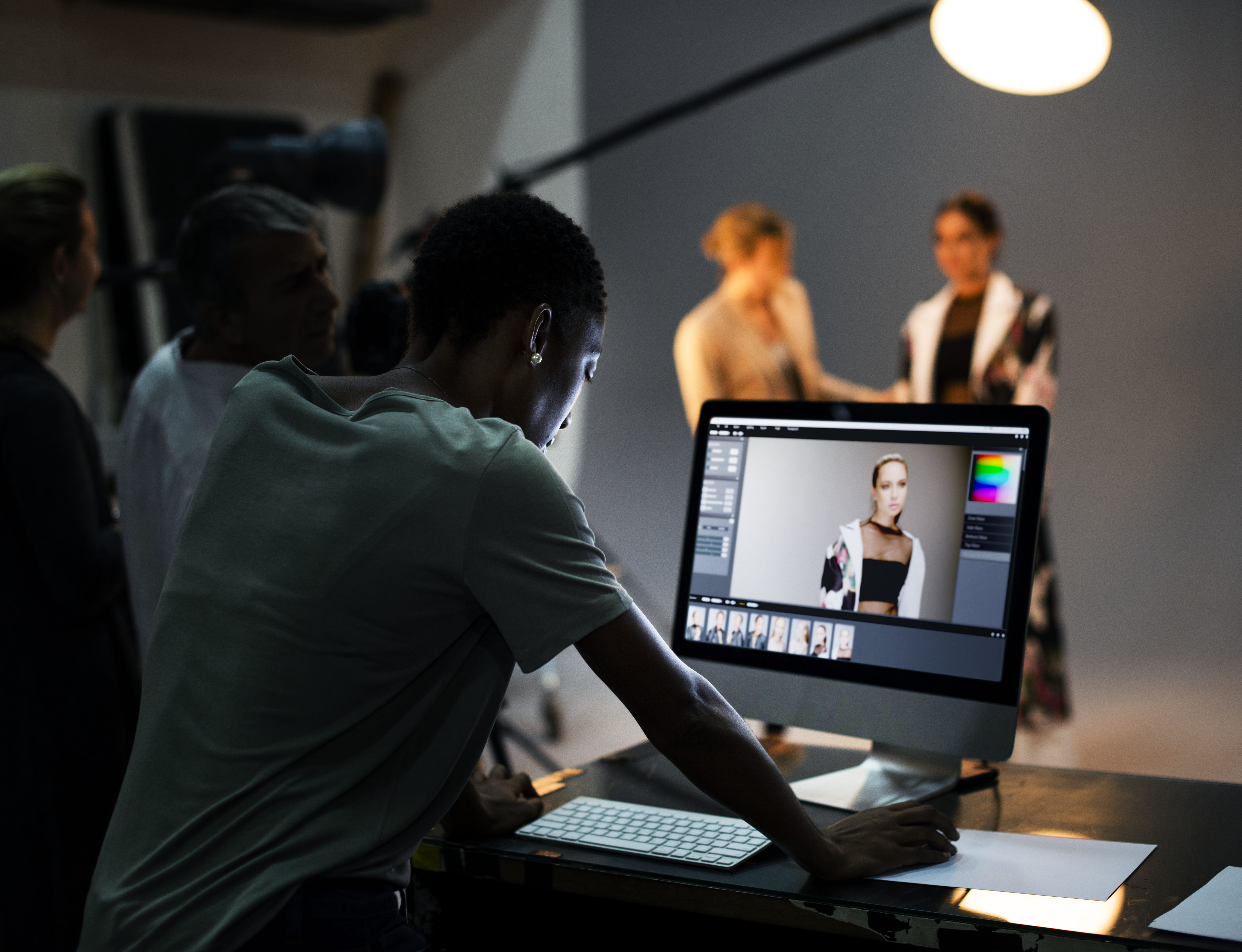 Beginning immediately, I'm accepting Digitech (On-set Digital Photo Technician) assignments.
Work with me on set at your next photo shoot!
My favorite projects for the last few years have been photo retouching assignments. I love diving deep into individual captures and making the best image possible!
On many (better) photo shoots, a Digitech handles the digital workflow of the shoot. I manage a tethered camera while organizing, naming, tagging & taking notes for images that follow RAW files into the workflow. At the end of the shoot, I provide Contact Sheets and low-res comping images to the clients. Based on their selects, I prepare high-res deliverable images.
Often this includes adapting an approved photo style from the creatives to photos as they come out of the camera. This allows collaboration with the Art Director and Photographer on set which is really exciting. Leaning into my decades of production experience, I can quickly & confidently apply image processing. This lets the Art Director & Client approve the work being done, confident the images will work for their intended use.
With final selects in hand, I dive deep to refine the captures. My eye guides confident improvisation to achieve the goals when there isn't a straight line from capture to the finished image.
Why this somewhat obscure niche of the design world?
I love both the "Process" and the "Creative" parts of the creative process. Digitech work leans heavily on the process side and this suits me well. Plus, I love hanging out with photographers. I've done some freelance photography and I still use a DSLR regularly as an amateur. I really enjoy the process of making a photographic image. It doesn't hurt that a few people have told me that the Minneapolis commercial photography market needs more Digital Photo Technicians. Seems like a great opportunity to meet new clients while doing work I enjoy. Of course, I'd love to expand my new client relationships to include post-production work, such as Retouching and Photocomposition.
Some photographers I work with would rather not process their own RAW images. Some do a first pass of basic RAW edits and hand-off Capture One EIP or regular RAW files for finishing. With these clients, I've been doing the job of a digitech without having the advantage of working on set. I'm excited to get involved on-set with the photographer and art director.
In 2018 I began learning the Capture One workflow knowing that it is the standard on-set software. The editing concepts I have refined over the years in Adobe Camera RAW and Lightroom translate perfectly. I find Capture One opens up more sophisticated edits that Adobe Camera RAW just can't do. Capture One's layered workflow with sophisticated masking is a real game changer! So much more can be done before cracking open Photoshop.
I'm available in the Minneapolis/St Paul area. Contact me at the link below for my Rate Sheet and availability.
How could you use a tech on set?